Am I ashamed I took this long to do the easiest thing of compiling a list of 12 (plus special mentions) books? Nope.
In 2018, which seems like a very long time ago, I read 110 books. This was not a brag, I swear- just stating it. Some of them were terrible, but why sh*t on them, yeah? But I rated 40 books as five-starers. So this wasn't the easiest thing I've ever done. (Am I giving excuses? Maaaybe).
The good thing is, I really want to create this list, because I keep thinking of writing this post remarkably often. I thought it'd be a good thing to divide this up as Fiction, Non-Fiction, and Poetry. Since I've not read that many poetry books, I have picked out 2 of the 13 I did read, because I really want to talk about them very desperately. 
Out of the 40, I went about choosing them based on 1) how much I have thought about them, and 2) how much I have recommended them. So, here goes:
Fiction
When I Hit You: Or, A Portrait of the Writer as a Young Wife, by Meena Kandasamy.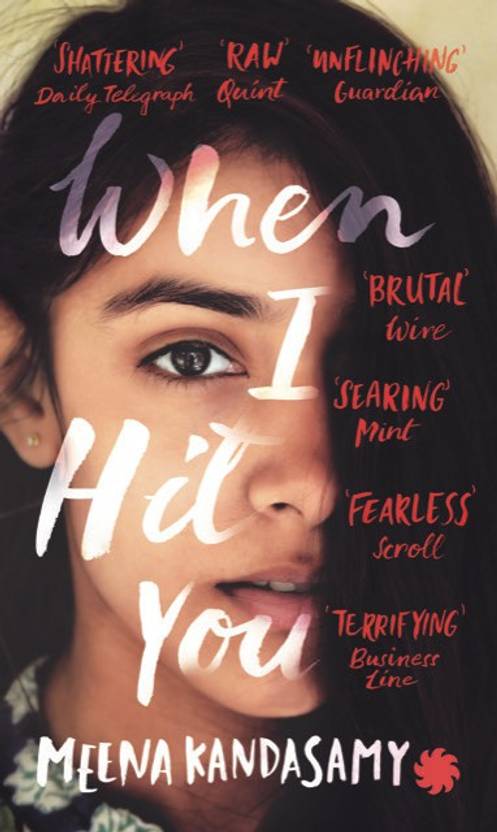 This book was so, so intense, and so haunting! It's basically about domestic violence, as is very evident from the title, but it is also about so much more. One of my favorite parts about the book was the protagonist recounting all her previous lovers – each of which she has romanticized and criticized. I also loved how slowly the violence developed, and how slowly she realized that what she was going through was not at all okay. Kandasamy writes in such a simple style, but her words are sharp, and they pierce through you when you least expect them to.
2. A Princess in Theory, by Alyssa Cole
This was probably the first romance book that I have ever read, and I'm the poorer for it. This book was so, so well-written. Add up a grad student who is secretly a princess of a random country, and a hot prince moving in next door and cooking for her, and what do we get? Higher standards! In all honesty, I was super, super sick, but this book made me feel so good, and what else is a book supposed to do? It's amazing!
3. A Girl Like That, by Tanaz Bhathena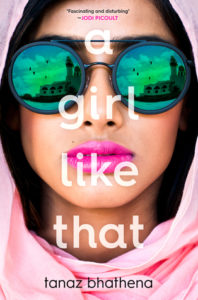 I found it really difficult to believe that this was a debut book. It's one of the most brilliant YA books I've ever read- it talks of the ideas of honor that is so pervasive across our society, of gender inequality, the ideas of what is moral and immoral, sex, religion- you name it! I just couldn't get the book out of my head for the longest time.
3. What if it's us?, by Becky Albertalli and Adam Silvera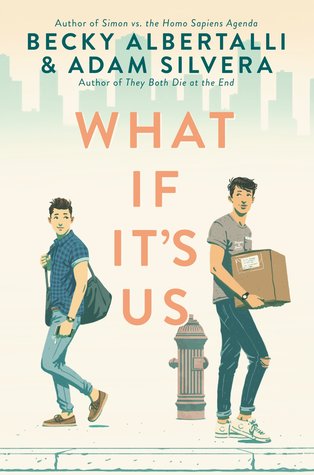 What can I even say about this book? It checks all the boxes: cute boys? check! young love? check! Jonathon Groff's amazing voice? check! fandom? check! waiting for the Hamilton lottery? check! firstkissfirsteverything? check! Showtunes? check! Cutest meet-cute ever? check!
I really need everyone to read this book!
4. Saga Vol. 1, by Brian K. Vaughan (Writer), Fiona Staples (Artist)
So, story time! When I first encountered Harry Potter, I couldn't stand the idea of it! What is this pish-posh about a boy wizard? Ew. But then, I was told the actual story, and then I read the actual book, and then I watched the movies, and the rest is history!
Saga looks like it's going in the same direction.
I had started the first issue in the very beginning of the year, and could not stand the absolute absurdity, and did not finish it. But once I got over how strange the scenario was, oof! It's absolutely one of my favourite things to read now, even though I have only finished the next volume! I'm really not ready for it to get over! It's sort of based on Romeo and Juliet, but with aliens and an intergalactic war, and robotic princes, and intergalactic fugitives, and alien babies, and angsty teen ghosts. It's fucking brilliant!
5. By the Book, by Julia Sonneborn
This book is about an English professor specializing in Victorian-era women writers, who has yet to get tenure. She finds out that her ex-fiance is now the president of the college in which she teaches. It's a retelling of Persuasion, by Jane Austen. You guys! It's so, so good! I couldn't help laughing and crying while reading, and I really hope Sonneborn writes a lot more! It's a brilliant retelling, and to attempt to do that with Jane Austen would have required lots of guts, and she pulls it off so, so well! Also, look at that beautiful cover!
Special Mentions:
1. Leah on the offbeat, by Becky Albertalli
2. Brokeback Mountain: From Story to Screenplay, by Annie Proulx (short story), Larry McMurtry, and Diana Ossana (screenplay)
3. Always Coca-Cola, by Alexandra Chreiteh, Michelle Hartman translation)
Non-Fiction
1. Why I'm No Longer Talking to White People About Race, Reni Eddo-Lodge
Renu Eddo-Lodge is a great essayist. She talks about race in Britain, and she looks at it from a historical, sociological, and an 'economic' lens. One of my favourite chapters was the one where she talks about the intersectionality of gender and race. Another brilliant, brilliant chapter is one on mixed-race children. I read the book before the whole Meghan Markle thing, and was furious with everything I was reading when it did happen. She writes, and this I think can be about any sort of privilege, I think:

"White privilege is an absence of the consequences of racism. An absence of structural discrimination, an absence of your race being viewed as a problem first and foremost"




Why I'm No Longer Talking to White People About Race, Reni Eddo-Lodge
2. Paddle Your Own Canoe, by Nick Offerman
I don't think I can do justice to explaining why this book is brilliant. One of the things I remember I kept doing while reading was text my best friend how much I would love to have Offerman as a dinner party guest, because he'd have some amazing stories to tell. He is hilarious (no surprise there), but his humor is so dry! He is extremely soft– there is a section wherein he talks about how he's lauded as the typically masculine figure, but how much he hates being called that, because he's not, and such a thing doesn't exist. Also, Nick Offerman on audio is just the best thing ever!
3. Against Empathy: The Case for Rational Compassion, by Paul Bloom
I've really enjoyed reading Paul Bloom in the past, but this book is something else. He makes the case against empathy- about how it's overrated, and how using empathy to defend decisions, especially policy is not the best idea, because empathy is biased. This leads us to make inadequate decisions. For example, we might want to help the child who is dying of liver disease by moving her up the line for transplantation, but is it really fair to everyone else?
4. The Doctor and the Saint, by Arundhati Roy
This was the first non-fiction book about Arundhati Roy that I've read. It's incarcerating, and evocative. There are examples and statistics, and some brilliant prose and arguments, and it should be compulsory reading for everyone who lives in India!
5. Becoming, by Michelle Obama
I'm not saying this book is great because she talks about Lin Manuel Miranda so much, I swear!
Her story is so moving and inspiring. She talks about living in the south side of Chicago, going to college where she's one of the very few Black student, being a high-powered lawyer and having the money to splurge, and then leaving the job for public service, meeting and falling in love with her husband (the parts at which I couldn't stop smiling), having children while her husband was working, and raising them while he was away. Of course, she also talks about sexism and racism and motherhood and being ambitious, and everything else that you want her to. The book, especially listening to her narrate literally made me well up a bunch of times. We are ever so lucky to have her tell her story.
Special Mentions:
1. Down Girl: The Logic of Misogyny, by Kate Manne
2. Nasty Women: Feminism, Resistance, and Revolution in Trump's America, edited by Samhita Mukhopadhyay and Kate Harding, and
3. G'Morning, G'Night: Little Pep Talks to Me & You, by Lin Manuel Miranda (writer) and Jonny Sun (illustrator).
Poetry
Ariel, by Sylvia Plath
Every poem in this book is fucking brilliant. There is no poem on here that I didn't like. She makes accidentally cutting her finger while cutting veggies sound beautiful! One of my absolute favourites was Daddy, which I will just quote here- see the brilliance for yourself. I also loved Lady Lazarus and Tulips. I think anyone who wants to learn to read poetry could just begin here, because of all the feels (and the drama, and the hauntingly beautiful turns of phrases)!

Bit my pretty red heart in two.
I was ten when they buried you.   
At twenty I tried to die
And get back, back, back to you.
I thought even the bones would do.

Daddy, Sylvia Plath
2. Ms. Militancy, by Meena Kandasamy
That's right. I have two books by Meena Kandasamy that I've considered by favourites for this year. What I loved about this was how angry she was, and we are all so greatful for her anger (not for the circumstances that were antecedents to this anger, obviously), but how productive and evocative the channeling of it is. In her poem Backstreet Girls, she writes, for example:
Tongues untied, we swallow suns.
Sure as sluts, we strip random men.
Sleepless. There's stardust on our lids.
Naked. There's self-love on our minds.
And yes, my dears, we are all friends

Backstreet Girls, Meena Kandasamy
Special Mentions:
1. Brown Girl Dreaming, by Jacqueline Woodson
2. The Girls are Coming out of the Woods, by Tishani Doshi
3. The Weary Blues, by Langston Hughes